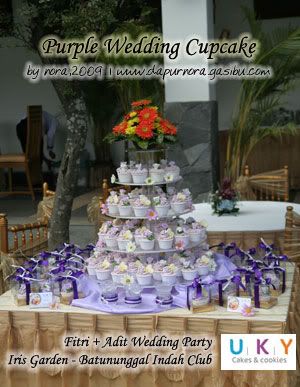 Purple Wedding Cupcake untuk pesta pernikahan Fitri dan Adit, di Iris Garden Batununggal Indah Club, Bandung.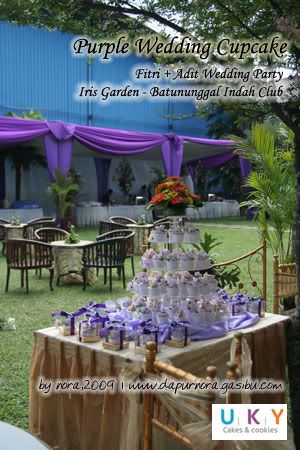 Wedding cupcake ini merupakan sejarah buatku
Karena pertama kalinya majang kue hasil karyaku di suatu pesta pernikahan yang megah dan meriah. Sebelumnya memang pernah ngerjain project buat wedding, tapi masih sebatas souvenir (cupcake) dan paket-pakat lamaran. Alhamdulillah…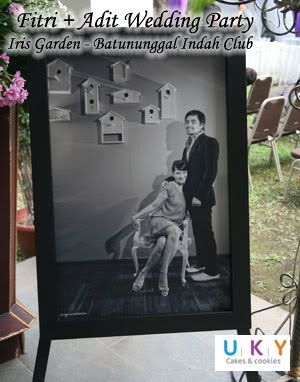 The bride and Groom, Fitri dan Adit. Terima kasih ya .. kepercayaan yang luar biasa. Walau pesennya mepet harinya, tapi karena Fitri udah beberapa kali pesen cupcake sebelumnya, jadi komunikasi masalah desain dan konsep, Insya Allah, tidak ada masalah.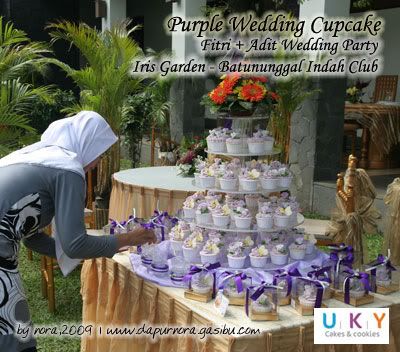 Tema party nya , garden party yang tidak terlalu kaku.. asyik, friendly, dan dominan warna ungu. Me on action
Fitri dan Adit, makasih atas kepercayaannya. Selamat ya, semoga bahagia selalu, jadi keluarga sakinah mawwaddah warrohmah. Amin.
Buat EO acara ini, Kang Idot, makasih juga ..udah support selama preparation-nya